The iPad 2 model A1395 is the second generation iPad (or iPad 2) with WiFi-only connectivity.  The iPad 2 is a tablet device by Apple that was released in the United States on March 2011.  It was then subsequently released to other parts of the world.  The iPad 2 is lighter, thinner, and faster than the original iPad.
The iPad 2 comes in three models depending on the connectivity abilities.  
iPad 2 Model A1395: WiFi-only connectivity
iPad 2 Model A1396: Wi-Fi / GSM / A-GPS
iPad 2 Model A1397: WiFi / CDMA / A-GPS
For each model, you can have black or white color. And for each of the model, you can select the amount of memory capacity: 16GB, 32GB, and 64GB. Depending on your selections, the price will vary.
The model number can be found on the back of the iPad.  Alternatively, on the iPad, you can tap on "Settings" on the Home screen and then go to "General -> About -> Regulatory".  There you should see the model number of the device.
If your model number shows A1219 or A1337, then you do not have the iPad 2; you have the original iPad.   But an easier way to determine whether you have the iPad 2 or the original iPad is to simply look to see whether it has cameras.  The iPad 2 has two cameras, one on each side, with rear camera being able to capture HD video.   The camera would look like a tiny pinhole, so it might be hard to spot.  The original iPad does not have any camera.
Because of the added camera, the iPad 2 has FaceTime app for video calling and PhotoBooth.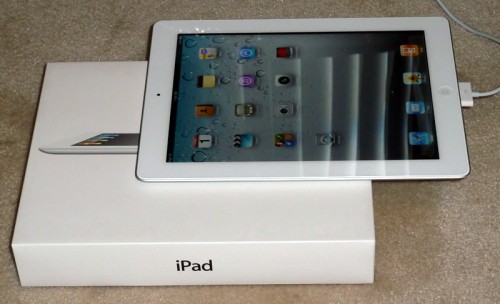 The iPad 2 uses the Apple dual-core A5 chip as opposed to the A4 in the original, making it up to twice as fast.  And better graphics (especially for games).  There is even a gyroscope, so that the display can rotate as you rotate the device.  There are games that takes advantage of the tilt sensing ability of the iPad 2.  Battery life is about 10 hours.
Of course, it can surf the web and send emails, but it can do a lot more.  Watch the below video by Apple.
The Apple iPad 2 Smart Cover is sold separately. As you saw in the video, the iPad can detect when you remove and put on the cover and will wake and sleep appropriately. The cover is magnetically attached, and can be folded into a stand for typing and watching videos.
It is recommended that you purchase either a Smart Cover or a third party case to protect the touch sensitive screen during transport.